Potideon Bay is located in Pigadia (Karpathos) the capital and the main port of the island of Karpathos. Pigadia - the word means "wells" in Greek Language - took its name from the many wells which existed there. You will find Pigadia on the southeastern side of the island and built on the same site as the ancient city of Poseidio.
The center of tourist life in Karpathos
Pigadia (Karpathos) has 2,707 inhabitants according to the 2011 census and is the largest settlement on the island. At Pigadia there is a great beach which can be visited by visitors and locals within minutes also there is a quite good network of rent a car services, buses and taxis connecting Pigadia with several beaches and all villages of the island.
Getting around briefly in Pigadia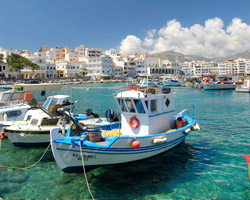 Descending from the hill of ancient Acropolis in Pigadia and heading to the port, "Posi", as the local people call it, word which definitely comes from the ancient city "Poseidio" we can see the jetty where the ships moor and gaze at the sea. In the port is the Port Office.

A smaller jetty forms a little marine for fish boats sailing boats and crafts. Following either the coastal or the central road there are many cafeterias, bars, restaurants and mini markets where one can sit and enjoy the fascinating view of the port and the mountainsides around Pigadia.

Exiting the town of Pigadia and following the central road to Aperi village, to our right lays the long beach of Vrontis and one can see the ancient ruins of St.Fotini and Afoti of the late 5th century A.D. and the beginning of the 6th century: columns, marble and rock carvings and pieces.
More useful information
Visitors will find nearby Potideon Bay restaurants and Cafe Bars as well as the main Hospital of Karpathos, the Post Office, Banks, the Police Station, places to shop for your everyday needs and gift shops. For more information do not forget to ask our always informed staff when visiting.